Products: Motor Fuel Tax Software: Kentucky (KY)
ABJ Associates Kentucky Motor Fuel Tax Software is designed to increase user productivity and accuracy while providing hard copy reporting as required by the Kentucky Revenue Cabinet.
Main Menu
Menu buttons allow the user to perform the various functions needed to maintain master files for information used repeatedly from month to month, input sales and receipt information each month, preview or print appropriate schedules, and backup or restore monthly data as required.
---
Entry Form: Sales
Sales and Receipt entry screens are used to collect the detailed information of each transaction while utilizing master file information increasing data entry speed and accuracy.
---
Entry Form: Receipts from Kentucky Dealers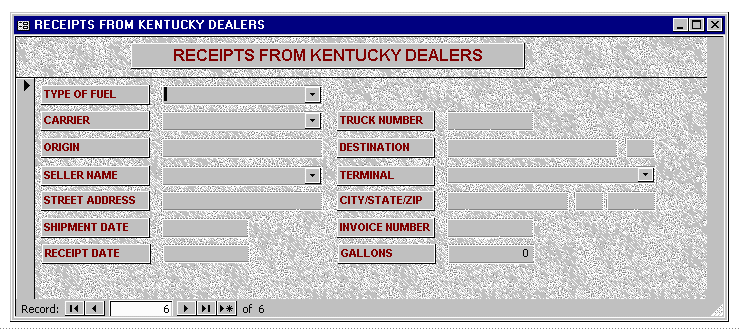 Report
Schedule reports comply with Kentucky filing format requirements, sorting data to the appropriate schedules and pages.